StoVentec Glass Resistant to Blasts
The StoVentec Glass rainscreen cladding system has passed stringent bomb blast tests, demonstrating its suitability for use in high profile public spaces such as airports and train stations.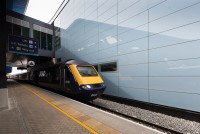 Specifiers are showing an increased sensitivity to the risks posed by terrorism and Sto elected to test StoVentec to a very high level, simulating 100kg explosive – essentially a car bomb – at 15m range.


The StoVentec Glass is a relatively new addition to the Sto portfolio in the UK, although it has already been specified for some high profile projects such as Reading Station (Grimshaw Architects); Streatham Hub (Michael Aukett Architects) and Canary Wharf, Crossrail (Adamson Associates).


StoVentec Glass consists of panels of toughened glass bonded to a carrier board and a stainless steel and aluminium supporting framework that is mechanically attached to the building. The system is generally specified for its amazing aesthetic, centring on the vivid colours that are effectively enamelled onto the glass prior to its application to the carrier board.


However, increasingly tough specifications are a feature of new transport and infrastructure projects, so Sto took the decision to go for extremely stringent tests.


Conducted at Spadeadam in Cumbria, the tests used the ISO 16933 standard which tests the air-blast resistance of glazing.


The objective of the test is to ensure that no large glass fragments are released by the blast to cause injury. Even at this most onerous level the StoVentec Glass system remained intact with no glass fragments travelling further than 1m from the surface area.


This impressive performance puts the system at the very top of the range of cladding systems tested in Europe to date. Sto believes that it is the first rainscreen system that is also suitable for interior use to have been tested to this standard.


StoVentec Glass

Glass always impresses, and our panels offer a wealth of design possibilities to create further impact. Curves, vivid colours and even screen printing options are all available depending on your vision and creative ambitions.
Contact Sto
Please contact us if you have any questions or enquiries about Sto products, systems and services.


Call: +971 45 51 55 61