One Thing After Another: An installation by Sam Jacob Studio
24th May - 1st July 2016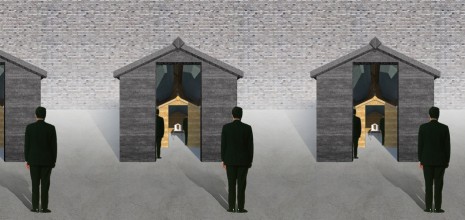 Show image in its full size
One Thing After Another is a project that starts with the most mundane yet essential form of architecture - a garden shed. The structure is 3D scanned to create a digital copy which is then processed and scaled to fabricate a new CNC'd version from Sto's lightweight construction material Verolith, made of 90% perlite, a type of volcanic stone.

The original shed sits surreally inside this larger digital version, and is reflected optically by the mirrored StoVentec Glass cladding on the interior. At the centre of the installation is yet another doll-house scaled copy of itself. It is architecture arranged like a Russian Doll where one version of a thing sits inside another.

Though the technologies of 3D scanning and digital fabrication the original building is both replicated and made different. The original building is transmitted into a new state: bigger and materially transformed. Instead of seamlessness and efficiency, it is concerned with representation and fidelity, using digital tools as a way of transforming the everyday.

One Thing After Another argues for an understanding of the possibilities of digital production that go beyond the blandly futuristic. Instead it suggests that new technologies can open up a wide array of design possibilities which embrace imperfections, processes of making and embeds these narratives and histories back into the material and form.

Through this close collaboration with Sam Jacob Studio, Sto has had the opportunity to interrogate processes of digital design and manufacture. This exploration has not only shown us new exciting forms that are possible with our materials, but a new attitude toward digital processes. It is through Sam Jacob Studio's unique approach that we have witnessed the potential of digital manufacturing processes to finish a material with the familiarity, warmth and character commonly felt from a hand finished surface.

Note: During Clerkenwell Design Week (24th -26th May) the exhibition will be open for the extended hours of: 10am to 7pm, or by appointment.
Visit Us
The Werkstatt
7-9 Woodbridge Street
Clerkenwell
London
EC1R 0LL

Tel: +44 (0)20 7222 2221

Tues-Thurs 10am-7pm extended opening times or by appointment