Droplet
An installation exploring intelligent façade surfaces by Bureau de Change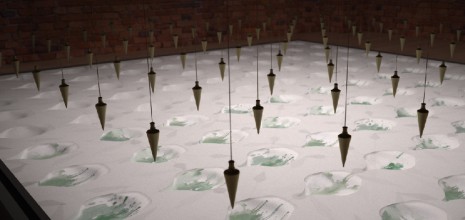 14th October - 16th December 2016
Sto Werkstatt has invited emerging architecture practice Bureau de Change to create an installation for the Werkstatt's gallery space that explores Sto's Intelligent Technology (IQ) coatings range.

Droplet translates references from the rich industrial history of the London neighbourhood Clerkenwell, into a captivating, sensorial environment. The focus of the space is a three-dimensional surface made of 100 petal-like forms and 100 pendulums suspended directly above in a grid formation, creating a field of vertical elements.

Inspiration for the forms comes from flower making tools, which were used in Sto Werkstatt's building between 1876-1932 when it housed an artificial flower making factory as part of John Groom's mission to train impoverished and disabled women to craft artificial flowers. The pendulums are a nod to the clock and watch making industry, which thrived in Clerkenwell from the beginning of the 18th Century, and in the surrounding Sekford Estate from the 1820s.

The sunken petal-like forms, which are CNCd from Sto's lightweight façade material Verolith, will subtly evolve over the exhibition's duration. Coloured liquid will gently trickle down the wires of the pendulums suspended above, eventually dropping from the tips of the pendulums onto the petals below. Half the petals will be coated in a Sto Intelligent Technology (IQ) façade paint whose patented micro-textured surface provides natural protection against algae and ensures that the moisture runs off quickly and with ease. In contrast, the other half will be coated in conventional façade paint, where droplets will cling to its surface, building layers of intense colour throughout the exhibition. While this painterly effect will be beautiful, the colour subtly hints towards the algae and fungal growth many façades are hindered with.

The full range of Intelligent Technology (IQ) façade coatings will be on display in the materials library. The range has been developed utilising patented technologies on biomimicry, Visible Light Catalysts (VLC) and NIR (Near-Infra Red) reflective pigments. Each technology when applied to the appropriate environmental demands placed on a building can support: Cleaner façades (StoColor Lotusan); breaking down NOx pollutants (StoColor Photosan); quick drying façades (StoColor Dryonic) and heat management on dark coloured façades (StoColor X-black).

An immersive, ever-changing work, Droplet will provide an insight into both the Werkstatt's history and its present function as a home to innovative materials.
Visit Us
The Werkstatt
7-9 Woodbridge Street
Clerkenwell
London
EC1R 0LL

Tel: +44 (0)20 7222 2221

Tues-Thurs 10am-7pm extended opening times or by appointment