16th June - 15th December 2017
Emerging architecture and research practice Space Popular make their UK debut with a unique installation for the Werkstatt's gallery space. 'The Glass Chain' explores an alternative future for glass in architecture inspired by the legacy of the infamous Glass Chain Letters (1919–1920).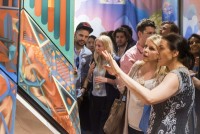 Sto Werkstatt's brief for this new commission asked Space Popular to work with StoVentec Glass to redefine the limitations of the material and imagine its bright, colourful, and energising possibilities—encouraging us to imagine a new purpose for glass in building design.

The title 'The Glass Chain' is a reference to the infamous exchange of letters by a group of German architects from 1919-1920 initiated by Bruno Taut, fantasising about the myriad of possibilities of this incredible material: glass. Sadly, the letters explore a vision of glass that was never realised. These early days of modernism took a different turn: glass became a peripheral material of windows and walls with the ability to mediate spatial qualities while remaining invisible; whilst Taut instead believed that all architecture and even furniture could be made of glass and the material itself could have qualities to be mediated.

Following the legacy of the Bauhaus movement, today the use of glass in architecture has become a largely functional element of a building. Almost one hundred years later, Space Popular—inspired by the visions from that time— is taking up the mantle to wrest glass from its modernist confines and set it free to enjoy bold colour, complex forms and new meanings.

The design explores different ranges of scale, playing with our visual perception of glass doorways as grand arches and small steps as giant pediments. Space Popular have worked closely with Sto technical experts to realise a kaleidoscopic glass construction that uses glass to enhance, alter and question human perception of space across physical and virtual realities.

About Space Popular
Lara Lesmes and Fredrik Hellberg are graduates from the Architectural Association in London and founded Space Popular in Bangkok in 2012. The practice has since completed built projects both in Asia and Europe and participated in a wide range of international competitions. In 2011 they joined INDA, Chulalongkorn University in Bangkok, now one of the strongest undergraduate programs in South East Asia. They have lead a wide range of research projects and workshops in Europe and Asia and have through their design and research studio Tools for Architecture investigated topics such as masonry structures, space of political debate, renewable materials and virtual architecture. In the fall of 2016 they launched Tools for Architecture at the Architectural Association in London where they are unit masters of Intermediate One where second and third year students explore experience driven design methods.


Included in the exhibition "The Glass Chain" are virtual reality movies to further amplify the material's capabilities.
Video clip | 1:41