Sto sponsor of the British Pavilion at the 17th International Architecture Exhibition - La Biennale di Venezia
Sto are proud sponsors of the British Pavilion at the 17th International Architecture Exhibition - La Biennale di Venezia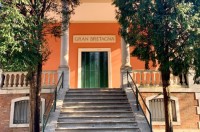 "Was lange währt, wird endlich gut." is a German saying that translates to "good things come to those who wait". Originally planned for 2020, we are thrilled that the British Council and selected curators Manijeh Verghese and Madeleine Kessler's proposal The Garden of Privatised Delights
will finally open on 22nd of May and continue until 21st of November 2021.

To coincide with the Biennale we aim to offer a series of events in London and Venice, that act as platforms for the curators to present and further explore the full process involved in bringing their vision for the British Pavilion together: from concept, development to completion and its legacy.


These events will be produced in partnership with our London based hub
and will include additional events produced in partnership with
in Venice during the Biennale in 2021.

As a global manufacturer with a keen interest in the culture of architecture, it is an honour to accompany this project from such an early stage. We are looking forward to learning from the project's developments and findings.
To hear about forthcoming events at Sto Werkstatt, Opt In to receive

For more information about the
follow the coverage of the opening in Venice on

- courtesy of our colleagues from StoItalia.