StoColor Rapid Neo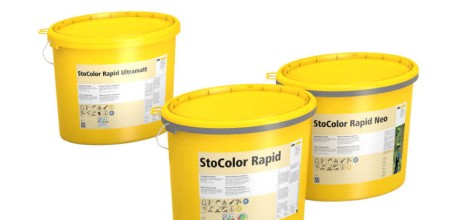 Show image in its full size
Success runs in the family. When it comes to painting interior walls, it pays to use a highly covering paint that delivers top results after just a single application. With all three qualities from the StoColor Rapid family, tradesmen achieve perfect surfaces with just one coat. Thanks to the Rapid-Technology, which is available in three different versions, all surfaces can be coated perfectly and efficiently.

We are delighted to present a new interior dispersion paint from Sto.

StoColor Rapid Neo will be available as the newest member of our popular, tried-and-tested Rapid family. StoColor Rapid Neo's standout feature is its preservative-free formulation.

Health protection and sustainability
Our production facility allows us to manufacture coatings without preservatives. This is another key milestone in our long-standing commitment to avoiding ingredients that present a risk to health. It reinforces Sto's competitive position and ensures that the highest levels of almost all standard Europe-wide product labels can be achieved. Additionally, it meets the requirements associated with a whole range of building certification and assessment systems, such as DGNB, BNB, and Sentinel Haus.
Properties
Optimum hiding power (class 1)
Very high whiteness
Free of substances that contribute to "black dust" on walls
TÜV-certified and externally monitored
Solvent and plasticiser-free as well as low-emission
Application
StoColor Rapid – ideal for rough substrates - such as wood-chip wallpaper and plaster
StoColor Rapid Ultramatt – ideal for extra-smooth and flat-plastered substrates
StoColor Rapid Neo – perservative-free, highly covering interior paint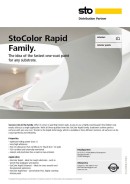 The idea of the fastest one-coat paint for any substrate.