Acoustic Systems
Effective acoustic solutions are becoming increasingly important in modern architecture. Even during the planning stage, ways to positively influence the sound of a room as inconspicuously as possible is a major consideration.


The StoSilent range of acoustic systems offer more than just outstanding technical performance and the best sound environment. All options include technical and on-site support, applicator training and acoustic calculations for your project.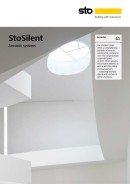 Download the Sto Acoustic Systems brochure for system information, highlights and inspiration.
Download brochure | 1.5 MB
Contact Sto
Please contact us if you have any questions or enquiries about Sto products, systems and services.


Harris International
Consultant for Sto Group GCC region
Call: +971 58 296 0404