Acoustic Systems
Installation & Maintenance
StoSilent acoustic systems are simple to install, thanks to their low board weight, high rigidity and resistance to humidity. Sto provides clear, easy-to-follow installation guidelines for all StoSilent systems.


The boards are easily cut with a knife or saw, and because they are almost entirely free of fibres, they pose no health risk to the installer.


Trained Applicators
All Sto acoustic systems must be installed by Sto trained applicators to ensure the overall quality of the system is as specified. On-site assistance from a Sto Technical Advisor is available if required.
Climatic Conditions
Sto acoustic systems must be applied in a dry environment and protected from damp at all times during installation. The temperature of the room and substrate must be above +5°C with max. 70% Relative Humidity (RH).


Drying times of materials can also be affected by the climatic conditions of the room.
Perimeter Gap
It is important that the StoSilent ceiling is not mechanically fixed to the wall. Leaving a perimeter gap. This prevents cracks from forming due to mechanical stress between different substrates and allows for pressure equalisation, preventing undesirable staining due to high air pressure forcing dirt particles through to the surface.
General Cleaning
To remove loose dust and dirt from a StoSilent system, use a soft brush or vacuum cleaner with brush head attachment.
Re-Decoration
Using an industrial vacuum cleaner with brush fitting, remove built-up dust from the system's surface. The system can be rasped back and re-sprayed with 1 coat of StoSilent Top Finish.


Care must be taken not to reduce the acoustic absorption properties of the board.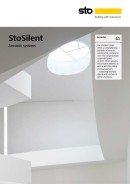 Download the Sto Acoustic Systems brochure for system information, highlights and inspiration.
Download brochure | 1.5 MB
Contact Sto
Please contact us if you have any questions or enquiries about Sto products, systems and services.


Harris International
Consultant for Sto Group GCC region
Call: +971 58 296 0404