External Wall Insulation Systems
Around 30% of the energy used to heat a typical building is lost through the external walls.


The StoTherm range of external wall insulation systems significantly reduces this energy loss by wrapping the building in a thermally resistant envelope, maximising internal space and maintaining comfortable internal temperatures all year round. And you don't need to compromise on aesthetics: Each system can be finished in a wide range of renders and architectural elements.



StoTherm Classic S1
The original, cement free external wall insulation system, with outstanding durability, crack resistance and weather protection. Available with adhesive or mechanical fixing options.

StoTherm Mineral
Non-combustible mineral fibre external wall insulation system for unrivalled fire protection. Available in adhesive or mechanical fix.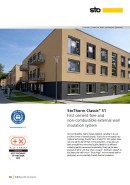 Download the StoTherm Classic S1 leaflet for system information
Download PDF | 300 kB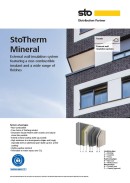 Download the StoTherm Mineral leaflet for system information
Download PDF | 114 kB
Contact Sto
Please contact us if you have any questions or enquiries about Sto products, systems and services.


Harris International
Consultant for Sto Group GCC region
Call: +971 58 296 0404