StoTherm Mineral
A highly durable external wall insulation with mineral fibre boards, providing unrivalled fire protection and high thermal performance.


A range of reinforcing meshes provide improved impact resistance.


Features & Benefits

Fire resistant insulation materials for unrivalled fire protection.
Efficient single-leaf construction allows for excellent thermal performance without reducing the interior space.
No additional expansion joints required.
Dense construction materials provide improved sound insulation.
Finished in Sto through-coloured, weather resistant, vapour permeable synthetic renders in a range of textures and up to 800 colours.
Ready-to-apply system components.

Areas of Use

New build and refurbishment projects.
Mineralic insulation and reinforcing coat provide excellent fire performance.
Can be applied to uneven substrates up to 50mm dependent on the selected fixing method.

System Approvals

European Technical Approval ETA-04/0074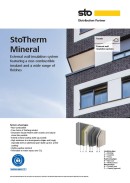 Download the StoTherm Mineral leaflet for system information
Download PDF | 114 kB
Contact Sto
Please contact us if you have any questions or enquiries about Sto products, systems and services.


Harris International
Consultant for Sto Group GCC region
Call: +971 58 296 0404