StoTherm Classic S1
StoTherm Classic S1 is a non-combustible external wall insulation system, which is entirely cement-free with highest impact resistance.


Features & Benefits

non-combustible
highly resistant to mechanical stress
resistant to cracking thanks to an organic coating build-up
intense, dark colour shades possible
can be carried out with the finishing renders Stolit®, StoSilco®, StoSilco® blue, and StoLotusan®
highly resistant to microorganisms (algae and fungi)
cement-free, ready-to-use system components
feasible without intermediate coat and paint coat
fully-fledged, purely organic EWIS system which uses basalt, an exceptionally durable, non-combustible raw material
highly weather-resistant
permeable to water vapour and CO2

Areas of Use

new and existing buildings
especially suitable for high-rise, public and special-use buildings
suitable for passivhaus standard

System Approvals

The relevant European and/or national approvals apply.

ETA-12/0533 StoTherm Classic® 10 MW/MW-L (StoArmat Classic S1)
Test report 902 6060 000-2 StoTherm Classic® S1 mit StoArmat Classic S1 - Ball impact resistance
The Blue Angel for external wall insulation systems - RAL-UZ 140 Certificate No. 25660 StoTherm Classic® S1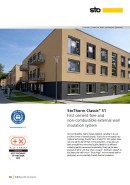 Download the StoTherm Classic S1 leaflet for system information
Download PDF | 300 kB
Contact Sto
Please contact us if you have any questions or enquiries about Sto products, systems and services.


Call: +971 55 26 18 735