StoSilent Direct
The StoSilent Direct system consists of composite mineral fibre boards with a pre-applied, textured surface. The boards are bonded directly to the substrate, and their pre-chamfered joints can be left as is, or filled prior to applying one of the StoSilent textured finishes.

Sto Silent Direct has particularly impressive sound absorbing qualities, and is best suited for continuous ceilings or walls without upstands. Seamless surfaces up to 700 m² can be created without the need for a break in the system, as well as curves down to a radius of 5m.


Sto can advise on which system would be best suited to meet the needs of your project. Please get in touch and we will arrange for a Sto Technical Consultant to contact you and discuss your requirements.


System Variant

StoSilent Direct
Directly bonded acoustic system for seamless surfaces

1. Priming coat
2. Bonding
3. Acoustic panel
4. Filler and levelling coat
5. Edge finish
6. Intermediate coat
7. Finishing coat


reaction to fire: class A2-s1, d0 in accordance with EN 13501-1, non-combustible
fire resistance class: REI60 in accordance with EN 13501-2 (wooden beam ceiling) classification report no. KB 3.2/19-423-1
covering in class K260 classification report no. KB 3.2/19-423-2

Sound absorbtion: αw up to 1.00 depending on:
- board thickness
- coating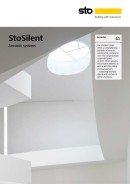 Download the Sto Acoustic Systems brochure for system information, highlights and inspiration.
Download brochure | 1.5 MB
Contact Sto
Please contact us if you have any questions or enquiries about Sto products, systems and services.


Harris International
Consultant for Sto Group GCC region
Call: +971 58 296 0404